Building named to honor President Emerita Mary Sue Coleman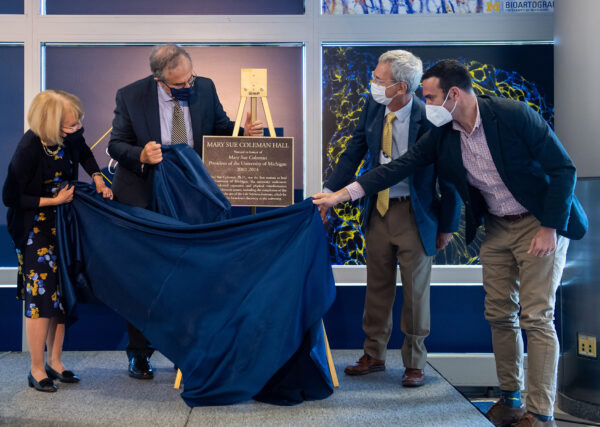 The University of Michigan named the building that houses the Life Sciences Institute after President Emerita Mary Sue Coleman to honor the U-M leader who initially created the institute, established the North Campus Research Complex and led the fight for affirmative action to the U.S. Supreme Court.
Mary Sue Coleman Hall, a research facility located at the nexus of the central and medical campuses, is the first academic building on the Ann Arbor campus to be named for a woman. Coleman, a biochemist who built a distinguished research career before her rapid rise through the ranks of higher education administration, served as U-M president for 12 years.
"I am deeply honored and touched by this action from President Mark Schlissel, Chair Denise Ilitch and the entire Board of Regents. For me, helping to build the Life Sciences Institute into the research powerhouse it is today was the opportunity of a lifetime," Coleman said. "I am grateful to those inaugural Michigan faculty who joined this endeavor early on. This building, a spectacular example of superb research laboratory architecture, vividly demonstrates the importance of light, airy spaces where ideas can blossom, collaborations can thrive and novel discoveries often emerge. I am simply thrilled."
Coleman was the first woman to serve as president of the university, from August 2002 to June 2014. During her tenure, she was named one of Time magazine's "10 best college presidents" and was popular with students, faculty and staff.
She was involved in a number of important initiatives, endeavors and decisions that helped shape U-M. She brought the Life Sciences Institute to fruition, including the hiring of its first director and 25 faculty, and launched a successful campaign to hire 100 junior faculty who specifically engaged in scholarship that crosses academic boundaries. Since retiring as president, she has maintained an office in the building that now carries her name.