FY 2021 Honors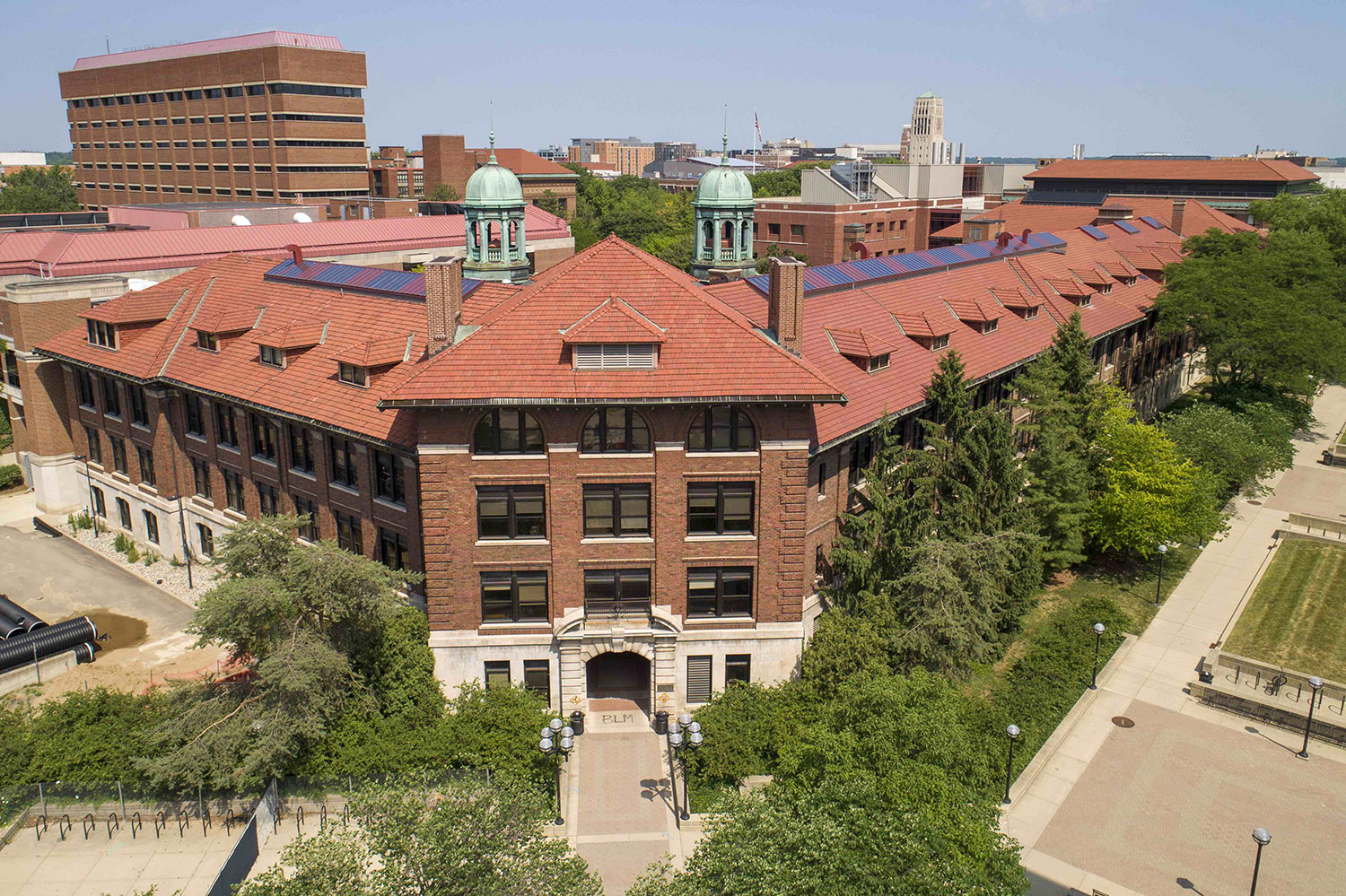 U-M alum Paul Milgrom awarded Nobel Prize in Economics
U-M mathematics alumnus Paul Milgrom was awarded the 2020 Nobel Prize in Economic Sciences for his work in improving auction formats. Milgrom and fellow researcher Robert Wilson were awarded the prize for their research about auction theory, a branch of economics that researches how people act in auction markets as well as the properties of auction markets. The Sveriges Riksbank Prize in Economic Sciences in Memory of Alfred Nobel comes with a $1.1 million prize to be shared equally between the laureates.
Historian and sociologist receive prestigious Guggenheim Fellowships
U-M College of Literature, Science, and the Arts faculty members Heather Ann Thompson, professor of Afroamerican and African studies, history and in the Residential College; and Geneviève Zubrzycki, professor of sociology, were among 184 writers, scholars, artists and scientists awarded 2021 fellowships by the John Simon Guggenheim Memorial Foundation. Thompson and Zubrzycki were chosen from among nearly 3,000 applicants based on prior achievement and exceptional promise. The fellowship allows recipients to pursue a project for six to 12 months, without conditions, in natural sciences, social sciences, humanities and the creative arts.
Gregory Eschenauer, PharmD, appointed to the National Institutes of Health COVID-19 Treatment Guideline Panel
Gregory Eschenauer, PharmD, clinical associate professor in the Department of Clinical Pharmacy at the U-M College of Pharmacy, and clinical pharmacy specialist in infectious diseases at Michigan Medicine, was appointed to represent the Society of Infectious Diseases Pharmacists on the National Institutes of Health COVID-19 Treatment Guideline Panel. Convened in March 2020 by Anthony Fauci, MD, director of the National Institute of Allergy and Infectious Diseases, the panel is composed of academicians, clinicians and representatives from multiple professional societies and government agencies.
Robert Hampshire joins Biden administration to work in transportation
Robert Hampshire, a faculty member in the U-M Gerald R. Ford School of Public Policy, College of Engineering and Transportation Research Institute, joined the Biden administration to work in the U.S. Department of Transportation as principal deputy assistant secretary for research and technology. Hampshire's research focuses on understanding the societal, climate and equity implications of autonomous and connected vehicles and other innovative mobility services. In this role, he is responsible for research, development and technology activities across the department and the 40 transportation centers.
Barr, Stevenson and McQuade assist Biden-Harris transition
President-elect Joe Biden selected three U-M faculty members to help review the operations of federal agencies as part of his transition team. Michael Barr, dean of the Gerald R. Ford School of Public Policy, and Betsey Stevenson, professor of public policy and economics, served on the U.S. Department of Treasury review team. Barbara McQuade, a professor from practice in the Law School, served on the Department of Justice review team. All three served in the administration of former president Barack Obama.
Associate professor appointed to FDA cybersecurity position
Kevin Fu, associate professor of electrical engineering and computer science and the Dwight E. Harken Memorial Lecturer, U-M, was named acting director of medical device cybersecurity in the Food and Drug Administration's Center for Devices and Radiological Health. In the newly created 12-month post that began January 1, he'll work to bridge the gap between medicine and computer science and help manufacturers protect medical devices from digital security threats. Fu is the founder of the Archimedes Center for Medical Device Security.
Epidemiologist Arnold Monto leads COVID-19 vaccine hearings
Arnold Monto, a leading epidemiologist at U-M's School of Public Health, was selected to serve as acting chair of the Vaccines and Related Biological Products Advisory Committee meeting. The committee, which advises the Food and Drug Administration, will discuss the development, authorization and licensure of vaccines to prevent COVID-19.
Five faculty members elected to National Academy of Medicine
Five U-M professors were elected to the National Academy of Medicine. Those honored include: F. DuBois Bowman, dean of the School of Public Health; Justin Dimick, the Frederick A. Coller Distinguished Professor and Department of Surgery Chair; Christopher Friese, the Elizabeth Tone Hosmer Professor at the School of Nursing; Karin Muraszko, who leads the Department of Neurosurgery; and Henry Paulson, the Lucile Groff Professor of Neurology for Alzheimer's Disease and Related Disorders in the Department of Neurology.
Three from College of Literature, Science, and the Arts elected to American Academy of Arts and Sciences
U-M College of Literature, Science, and the Arts professors Ruth Behar, the Victor Haim Perera Collegiate Professor of Anthropology and professor of anthropology; Ruth Scodel, the D. R. Shackleton-Bailey Collegiate Professor Emerita of Greek and Latin and professor emerita of Greek and Latin; and Karen Smith, the M.S. Keeler Professor of Mathematics and professor of mathematics, were among the newest members named to the American Academy of Arts and Sciences. They are part of the 252 artists, scholars, scientists and leaders in the public, nonprofit and private sectors named to AAAS.
U-M among nation's top Fulbright-producing institutions
U-M students and faculty scholars were offered 40 Fulbright grants for the 2020–21 academic year. The university is among the top producing institutions in the country for both programs. This year, student interests range from researching the biradari system and caste hierarchy in India, the design optimization of floating wind turbine substructures in Norway, and understanding the access to justice for survivors of conflict-related sexual violence in Bosnia, among other topics.
U-M biologist E. Josephine Clowney named 2021 Pew Scholar
E. Josephine Clowney, assistant professor of molecular, cellular and developmental biology in U-M's College of Literature, Science, and the Arts, was one of 22 early-career researchers chosen to join the Pew Scholars Program in the Biomedical Sciences. Clowney will study how female and male brains are programmed to allow sex-specific behaviors. She will receive funding over the next four years.
Four U-M researchers named Sloan Research Fellows for 2021
Four U-M early career researchers were awarded Sloan Research Fellowships for their creativity, innovation and research accomplishments. Recipients are: mathematician Alexander Perry, earth scientist Sierra Petersen, neuroscientist Swathi Yadlapalli and physicist Liuyan Zhao. Fellows receive two-year, $75,000 fellowships that can be spent to advance the fellow's research. The award is open to scholars in eight scientific and technical fields — chemistry, computational and evolutionary molecular biology, computer science, earth system science, economics, mathematics, neuroscience and physics.
Faculty members elected to National Academy of Engineering
Two U-M College of Engineering professors were named to the National Academy of Engineering (NAE) for their work advancing society's abilities to treat water with microbes and monitor the changing Earth from space. Lutgarde Raskin, professor of civil and environmental engineering, and Kamal Sarabandi, professor of electrical engineering and computer science, are among the 106 new members and 23 international members the NAE announced in February. They bring U-M's total membership to 36.
U-M scientists and engineers named 2020 AAAS fellows
Eight U-M faculty members were elected 2020 fellows of the American Association for the Advancement of Science (AAAS). The new fellows are: Gabriel Corfas, Carol Elias, Eva Feldman, Renny Franceschi, Yuri Gurevich, Ursula Jakob, Nathan Sheldon and Joel Swanson, who are among 489 newly elected fellows announced in November by AAAS.
LSA senior Amytess Girgis named 2021 Rhodes Scholar
Amytess Girgis, a senior in U-M College of Literature, Science, and the Arts, became the 29th Rhodes Scholar from U-M since the awards were established in 1902. Her honors thesis focuses on mutual aid groups in Detroit during COVID-19. Rhodes Scholarships provide all expenses for two to three years of study at the University of Oxford in England (ranked the No. 1 university in the world in some global rankings), and may cover funding in some instances for four years. Girgis is one of 32 Americans chosen to win scholarships to Oxford University.
U-M students selected for Marshall and Schwarzman scholarships
Seven U-M students and recent graduates were awarded prestigious scholarships for international study — one Marshall Scholarship and six Schwarzman Scholars. U-M College of Literature, Science, and the Arts senior Max Hammer became the university's 11th Marshall Scholar since the program began. U-M's new Schwarzman Scholars are: Jiaheng He, Karuna Nandkumar, John Petrie, Philip Ruffini, Shivam Shankar Singh and Ziqi (Will) Wang. They will pursue master's degrees in global affairs.
Michigan Medicine nationally recognized for straight 'A' in Leapfrog Hospital Safety Grade
For the 19th consecutive time, Michigan Medicine was awarded an "A" for achieving the highest national standards in patient safety. Developed under the guidance of a national Expert Panel, the Leapfrog Hospital Safety Grade uses up to 27 measures of publicly available hospital safety data to assign grades twice a year to more than 2,700 U.S. acute-care hospitals. The Leapfrog Group's grading system is peer-reviewed, fully transparent and free to the public.