U-M partnership awarded $1.4M to support COVID-19 intervention efforts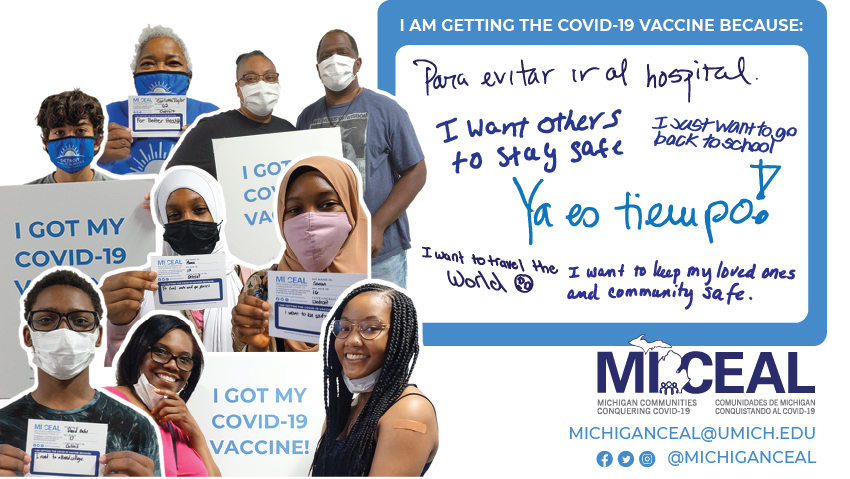 Michigan CEAL: Communities Conquering COVID, a member of the National Institutes of Health funded initiative Community Engagement Alliance (CEAL) Against COVID-19 Disparities, has been awarded an additional $1.4 million to support an additional year of community-based COVID-19 interventions. The Michigan CEAL project previously received $1.4 million in funding in the fall of 2020.
Michigan CEAL is a transdisciplinary partnership led by principal investigators Erica E. Marsh, MD, MSCI, FACOG, associate professor of obstetrics and gynecology, director of community engagement for MICHR; and Barbara A. Israel, DrPH, MPH, professor, U-M School of Public Health, Department of Health Behavior and Health Education, and director of the Detroit Urban Research Center.
The partnership is guided by a 16-member steering committee composed of leaders from community-based organizations, health and human service agencies and academia. Project efforts are focused on alleviating COVID-19 health disparities among Michigan's most disproportionately affected communities — African- American/Black and Latinx communities in Genesee, Kent, Washtenaw and Wayne counties.
While the first year of the project focused on conducting community-based participatory research that enhanced the inclusion of communities of color in COVID-19 research, year two will focus on improving access to the COVID-19 vaccines in under-resourced populations by supporting community-based vaccine clinics and testing interventions.
"To have any impact on behaviors, to identify perceived trustworthy sources of information, to understand the fears that exist and how to address them, we have to talk with people and listen to people, we have to be in the community," says Marsh.